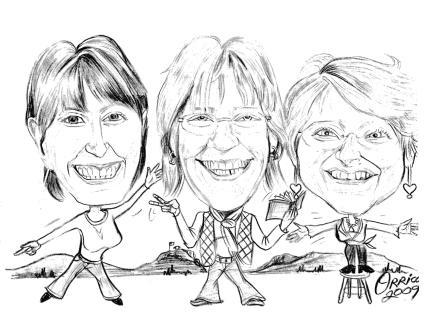 Boomer Broads Storytellers
Using video, acting, and storytelling, three tellers, Terry Visger, Sara Slayton, and Lynn Wing take you back to growing up in the 50's and 60's.
Terry, Sara, Lynn, with director Paul Heckman, wrote and performed four plays about 'days gone by'.  Sometimes poignant, often funny, the plays discussed going from poodle skirts and bobby socks to braless and free love.  What an interesting time to grow up!
The first show, Remembering While We Still Can, was performed at the Pump House Regional Arts Center in La Crosse, Wisconsin in March of 2009 to sold out audiences.  Because of the demand, the women revised the show for two more performances in June.  Again to sold out crowds. And then in Nov. 2012 they made a DVD before a Pump House audience. (available for purchase link?)
With more stories to share, a second show was written, What My Mother Didn't Tell Me, and performed three nights during Mother's Day Weekend in 2010.  Again, the shows were extremely popular–and, once again, sold out!!  A DVD of this show is also available for purchase. (available for purchase link?)
Our third show, Over the Hill and through the Woods, was first presented in Viroqua, WI and then at the Pump House in December of 2011.  And again SOLD OUT!!  The video of this is available. (Link to Video?)
The Fourth Show of our Trilogy (we don't do math well) is called, The Sixties, It's Not Just a Decade Anymore.  It was initially performed at the Pump House in La Crosse in April of 2013.
The Boomer Broads are no longer performing
The Boomers are no longer performing; our dear Sara Slayton died of cancer in March 2020.  But we have some DVDs available. They can be purchased by contacting Terry.
Our book, THE THREE BOOMER BROADS, REMEMBERING WHILE WE STILL CAN, is available through Amazon or by contacting Terry.